Adjustable Kettlebell
THE MOST ERGONOMIC AND COMPACT ADJUSTABLE KETTLEBELL
The Adjustable Kettlebell from PowerBlock is a selectorized cast iron kettlebell offering 4 different weight increments from 8 kg to 16 kg in a single unit. The PowerBlock adjustable kettlebells replaces 4 individual kettlebells, or 46 kg of free weights while taking up the space of just one kettlebell.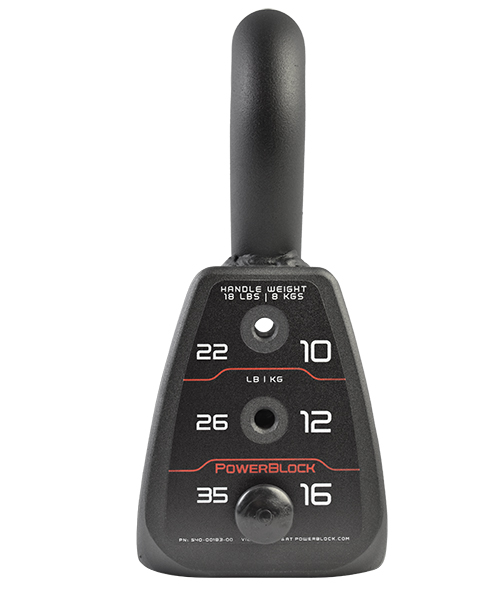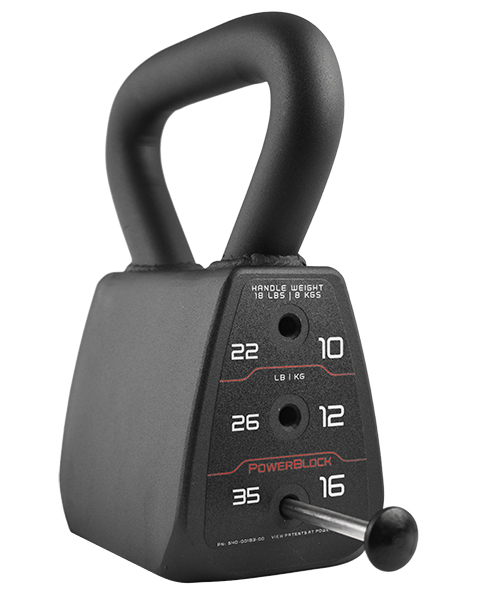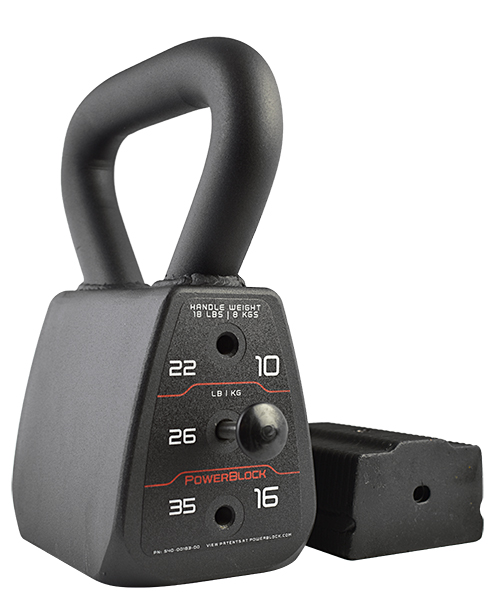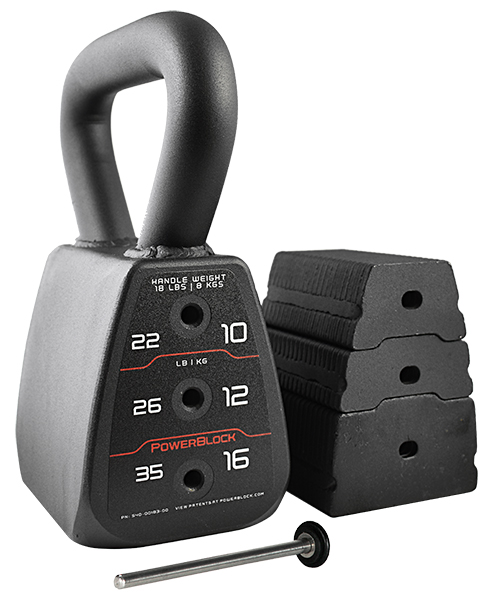 If you are thinking about buying several kettlebells for a kettlebell training routine at home for strength and conditioning, consider the efficient and space saving design of the PowerBlock adjustable kettlebell. This high quality kettleblock features a thick solid cast iron handle and welded shell design for durability. Unlike other selectorized kettlebells that may be bulkier or have an odd shape throwing kettlebell execution out of proper balance and form, the PowerBlock adjustable kettlebell features a curved outer shell and compact, ergonomic design for comfortable movement during exercise.
The PowerBlock adjustable kettlebell features a base weight of 8 kg for the handle and shell. Underneath the shell are a stack of three weighted core blocks weighing 2.2 and 4 kg in sequence from top to bottom. Changing the position of the magnetized selector pin on the side of the kettlebell will engage and lock in the core blocks from the top of the stack down adding overall weight to the kettlebell for use during exercise. The unused core blocks are left behind in their original storage position on a flat surface. This allows you to create additional functional weight increments of 10 kg, 12 kg and 16 kg. Any exercise you can do with a traditional kettlebell you can do with this space saving, quick change selectorized kettlebell!
The most ergonomic adjustable kettlebell ever
Replaces 4 kettlebells in the space of one
Adjustable Weight Increments: 8 kg, 10 kg, 12 kg and 16 kg
Contoured shell provides exceptional comfort
Feels like a solid iron kettlebell with the advantages of adjustability
Cast iron construction with black powder coated finish
Steel selector pin with magnetic lock
Weight increment selection printed in both pounds and kilograms for easy reference and quick change
Portable for travel
Residential use ONLY
Handle diameter: 33 mm
Weight for base handle and shell: 8 kg
Dimensions: L 14.6 x W 10.8 x H 25.4 cm
Ships in 1 box
Retail: €199,-